I'm home from all of my travels – and, whoa, it was a crazy couple of weeks. I had so many fun adventures, but I am definitely ready to get back to a regular routine. It's always a challenge to keep up a consistent workout schedule on the road and, of course, healthy eating isn't easy either. Instead of stressing over not being able to exercise and eat the way I want, I just do the best I can and ease back into my daily eats and exercise when I get home. Therefore, I wanted to share a sample macro for you to see how I get back to "normal" eats.
Sample Macro Day
Recently, I've received a number of requests for more blog posts with what I ate in a day (+ macros) along with my weekly workouts. I personally love getting inspiration and ideas from other bloggers, so I thought I'd get back to sharing my own – not to mention it's a little extra accountability! I hope you like this new addition to the blog, and it gives you some great ideas as you look to next week. Please let me know what you think of it in the comments below! 🙂
Coffee (unpictured): Iced coffee with 2 scoops of my fav vanilla bean collagen peptides + a splash of New Barn Almond Milk.
Breakfast: Ham and cheese egg cup (so easy to make!) + a rice cake with Nuttzo and sliced strawberries.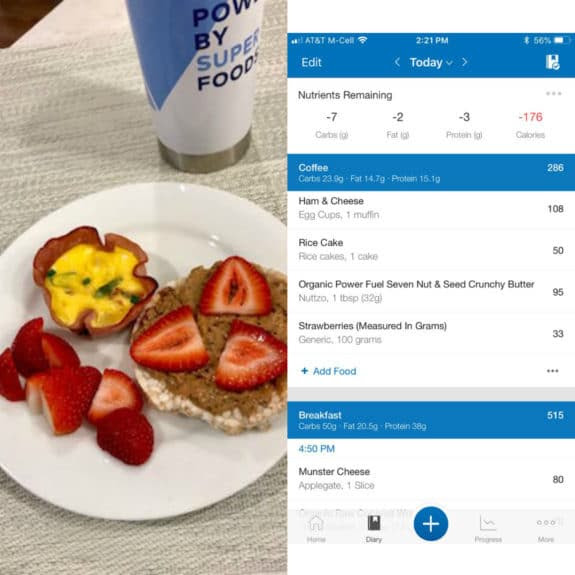 Lunch: A sweet and savory combo of my favorite Thrive Market coconut wraps stuffed with munster cheese, turkey, Annie's Horseradish Mustard, and baby kale. I also had another rice cake (caramel this time) with more Nuttzo and apple slices.
Snack: A delicious carrot cake smoothie, so refreshing on a hot day!
Dinner: Banza pasta with ground beef, marinara, and cheese that I didn't log (close enough) + a side of greens with my favorite Primal Kitchen Honey Mustard.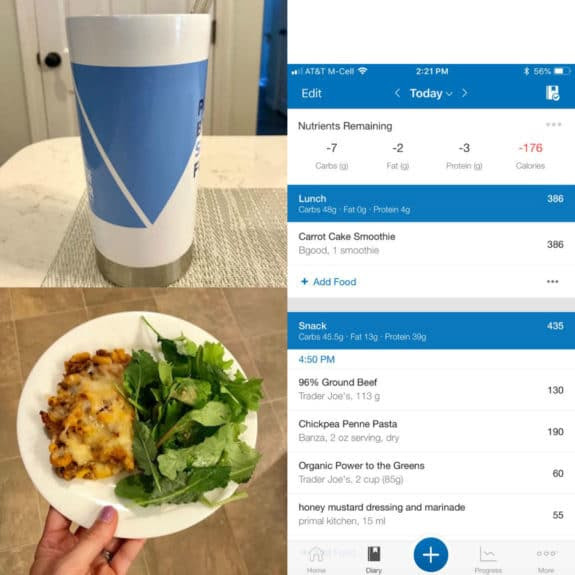 Dessert: A delicious peanut butter cup to end the evening!
Workouts to Try
AMRAP Countdown: 18 minutes is all you need to finish this total body workout. Between the Double Unders and rowing, I was definitely breathing hard!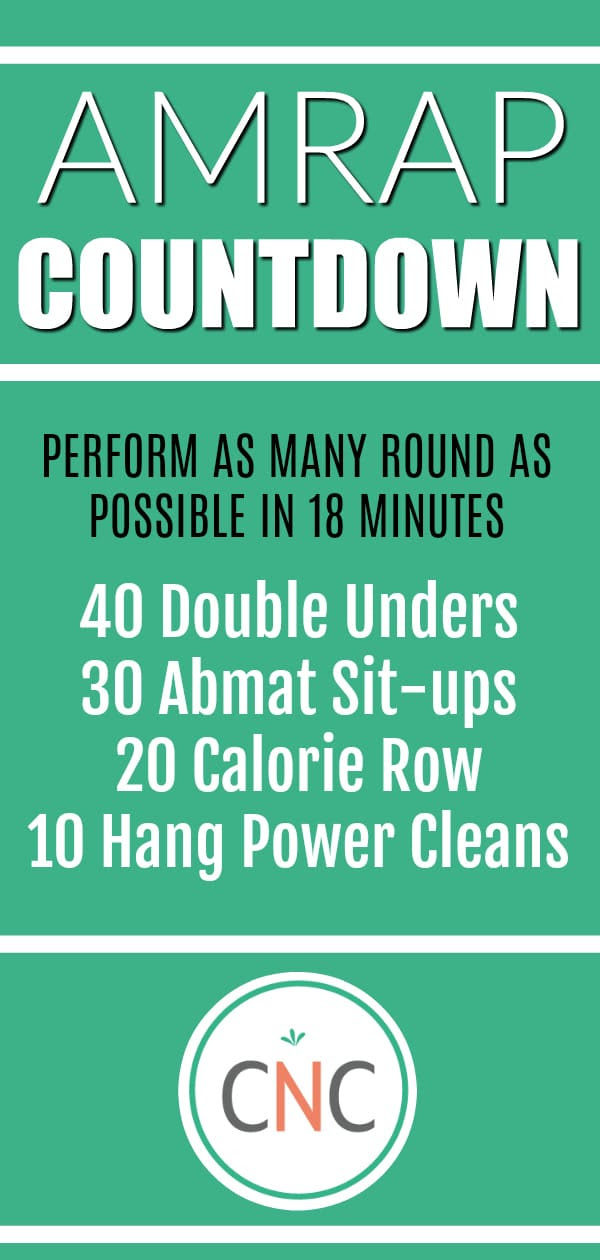 Fit It In Running Workout: Cooler weather makes me want to lace up my running shoes and hit the pavement. I loved this 20-minute workout that you can do in a gym or outside. If you have dumbbells or a barbell, you can use either to get outside and enjoy the fresh air!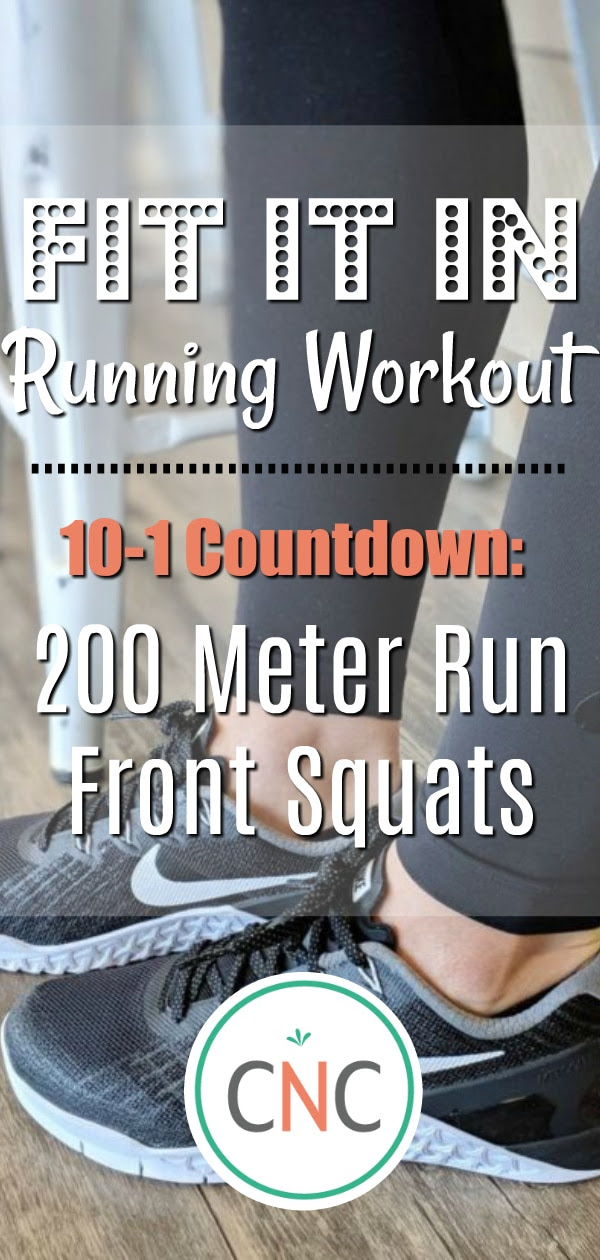 AMRAP Jack: This CrossFit-style AMRAP will get you in and out of the gym in 20 minutes! These are 3 of my favorite movements that will no doubt get your heart pumping – set your timer and just go!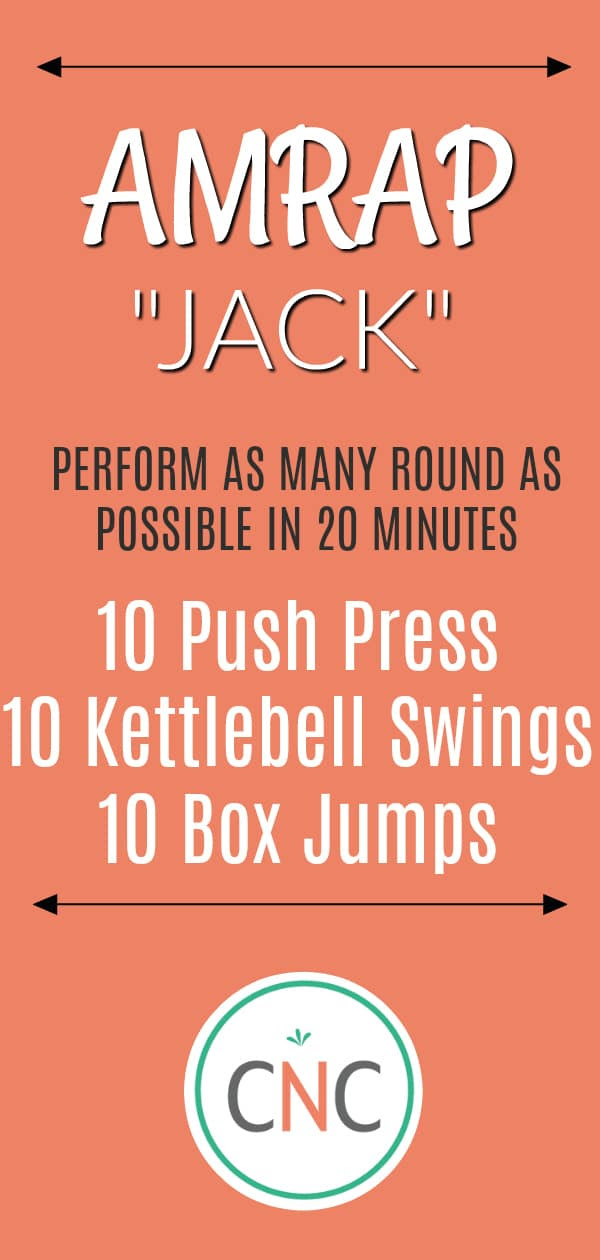 Favorite Fitness Deals
I'm always on the hunt for new activewear, especially if I can find a great deal! Here are some awesome deals to take advantage of this week!
Zella Vixen High Waisted Midi Leggings: I wear a lot of black leggings and these definitely spice up the standard pair – love the cutouts!
Asymmetrical Snap-Up Fleece: OMG, I love this fleece and need it in my life! It's currently sold out in the color that I want, but it comes in 5 other colors if you're interested. I'll be FOR SURE stalking the website in the coming weeks!
Zella Double Work Tank: Another Zella find that is a perfect staple – not to mention it's on sale for 40% and comes in two cute colors!
Brooks Launch 5: These have been my go-to running shoe recently. I packed them for workouts in both Des Moines and Santa Barbara.
The North Face Slacker Hooded Jacket – Super cute, cozy, and only $59! It comes in blue and black.
WOD Nation Speed Jump Rope: Just learning how to do Double Unders or want to work out from home? Having the same jump rope to practice on was key for me in learning how to do them. This rope also comes in so many cute colors, which never hurts, right?
Freebies for You
If you're looking for FREE macro-friendly recipes (weekly) and meal plans (monthly), be sure to sign up for my email list!
Join my FREE 5-Day Macro Bootcamp to learn all about getting started with tracking macros!
And be sure to sign up for 3 Weeks Easy Meal Prep Dinners to make the most of your time in the kitchen!
Want to eat your carrots and cake, too? Check out my macro plan and nutrition coaching options!
Question of the Day
What do you guys think about this style of blog post?