Hi, friends!
I'm still in sunny Santa Barbara, but I'm heading home soon. It was quite the whirlwind week, and I'm excited to be home with my boys this weekend. We're planning to go apple picking and have a low-key weekend. I'm very much looking forward to it! I can't wait to share more details from my travel with you, but, for now, I have a fun list of what I'm loving lately!
Asymmetrical Snap-Up Fleece – How adorable is this fleece? I'm in love. It also comes in 5 other colors and is priced right at just $68. I might just need it in my life! Another fleece favorite is The North Face Mountain Snap Sweatshirt, which is more expensive, but definitely worth the money. My apparel from The North Face has lasted forever and still looks brand new.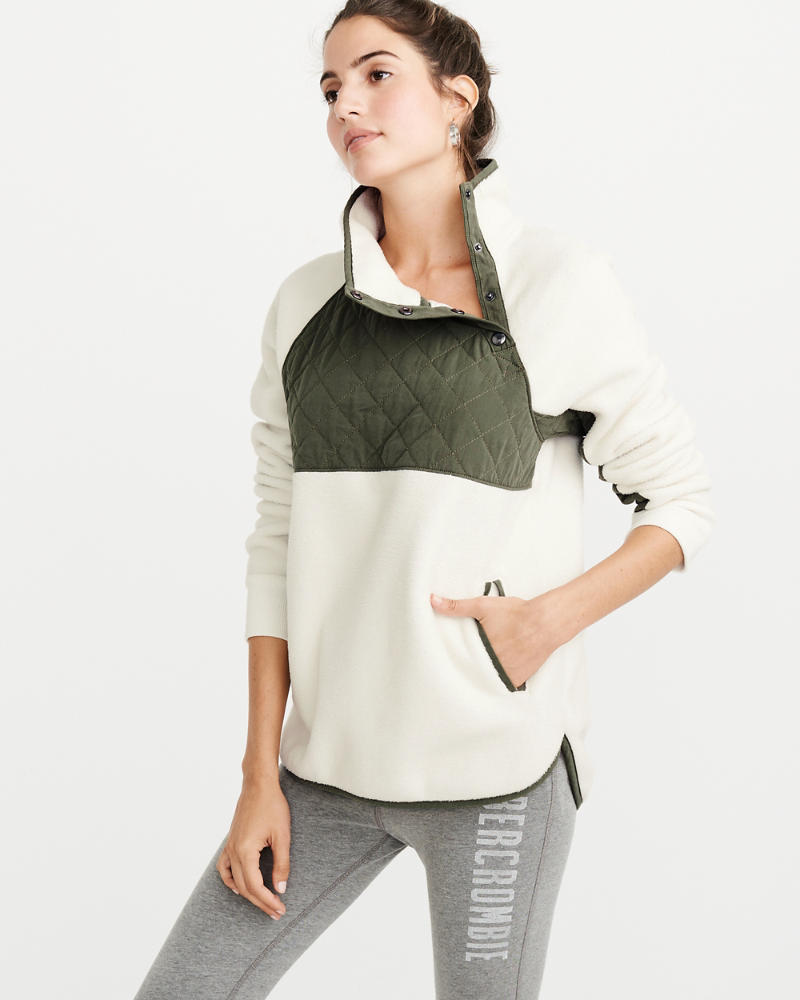 Stride Rite Made2Play Taylor Sneaker – We've always been a fan of Stride Rite – in fact, ALL of Quinn's sneakers are from there. But we always used to buy the same pair of Saucony's until we recently discovered the Stride Rite brand shoes, which we are so impressed with. Sure, the Saucony's are super cute, but the toe and sole start to fall apart and peel almost immediately. They're sturdy shoes, but they just look beat up within a couple weeks of wearing them. The Stride Rite Taylor Sneakers (pictured below) are awesome. They are much more high-quality and can really take a beating. Quinn has worn his new pair for a few weeks now, but they still look brand new. We are definitely new fans of Stride Rite brand shoes and plan to buy them in the future!
Magic for Humans – If you need a little nighttime entertainment, this show has had Mal and I cracking up! It sounds silly (which it is!), but Magic for Humans is a lighthearted show where the host, Justin Willman, performs crazy magic tricks on the street incorporating real people into the fun. His comedic timing really makes it hilarious at times and it certainly is a fun way to end the evening.
Do This Kind of Exercise If You Want to Live Longer, Study Says – This article was a really interesting read – it looked at the difference in overall health (and happiness) from those doing solo fitness compared to group activities.
Striped button-shoulder turtleneck – I love this top and wear it all the time. I originally bought it last spring, but it's definitely a piece I plan to wear this fall and beyond! I also like the white and green option! 🙂
Kut from the Kloth Diana Skinny Jeans – One of my favorite pairs is on sale right now for just $59 – and there's free shipping! 🙂
Wellness Mama Episode #183: Fluoride: The Hidden Cause of Acne (& What to Do About It) – The Wellness Mama podcast has been on my subscribe list for quite a while now. I love her family-focused health show, and I found this episode to be super interesting! This episode gets down and dirty into the controversial topic of fluoride in our water and how it relates to acne and other health issues. It definitely made me wonder if getting our Berkey Water Filter has helped my skin issues!
J Crew Merino Wool High-Low Cardigan Sweater – My idea of dressing up for an evening out usually means swapping out the athleisure sweatshirt for a casual cardigan. They're so versatile to throw on with jeans, cute boots, and a fun scarf for an effortless look. This slouchy cardigan comes in 3 different colors and is currently on-sale at $37!
Mikhaila Peterson – I recently listened to Mikhaila on an episode of the Joe Rogan Podcast – and, my gosh, her story was so interesting. She's a carnivore and ONLY eats meat. She shares how she cured herself of severe arthritis (she had multiple joints replaced at 17 years old), chronic fatigue, depression, and a plethora of other symptoms by changing how she ate. She definitely speaks her mind and has a unique perspective. I've actually heard more and more about the "carnivore diet" lately, which I find so fascinating. It's clearly working for some people! I'm always researching ways that one can improve their health through diet and lifestyle, so Mikhaila's experience is definitely interesting to consider!
Sam Edelman Maurine Bootie – These babies are 60% off at just $67! Now, that's an awesome investment! These booties would go with just about everything! These JBU Parker Booties from just $44 from Zappos, and they received great reviews! I also kind of like these slouchy booties (just $49). I actually think I would wear them a lot. Hunter Boot fans: Their Original Tall Glossy Boots are on sale for $99!
Trillest podcast – I'm a semi-new fan, but it's become one of my go-to podcasts nowadays. Taylor and Salah chat about all the things I love – health, fitness, CrossFit, running, mom life, and more! I recently had the opportunity to be a guest on the podcast, and we had such a fun time talking about my macro plans, fitness after a baby, hormones, and more!
Health Warrior Chocolate Chip Cookie Dough Chia Bars – I've always been a fan of Health Warrior Bars and this new flavor is one of my favorites! At only 100 calories and 3g of sugar, it's the perfect end of the evening dessert. The healthy fats from chia seeds and cashew butter are so satisfying too!
Vanilla Bean Collagen – I've received tons of questions about this collagen, so I just wanted to include it again in this blog post. I add it to my iced coffee every morning and even added it to hot coffee the other day – delicious!!
TOMS Deconstructed Alpargata Slip-On – Faded red TOMS for just $31? Yes, please! This pair is cute too!
Question of the Day
Have you gone apple picking yet this year? Local folks, where do you go?
We went to C.N. Smith Farm last year and really liked it!