Check it out: my last pill for my UC!!
I took that baby this morning, which means I'm off ALL drugs now. No steroids. No nothing. Booyah. Let's hope I can stay healthy now!
FYI: I'm taking probiotics (my doctor recommended VSL3) as well as a multivitamin and fish oil daily.
Breakfast
As soon as I woke up this morning, the thought of almond butter popped into my head, so I made My Favorite Breakfast Pancake and topped it with a huge scoop. I also shoveled a spoonful straight from the jar into my mouth. I am so classy.
I ate my pancake and then drank an iced coffee mixed with the ridiculously sweet stuff from yesterday. I sipped it while making a dent in my inbox.
Workout
A couple of hours later, I headed to the gym for a workout. Guess what was on the agenda?!?
FRAN!!!! I didn't see it coming at all""and, you know what, it totally kicked my butt!
Blah. Fran didn't go as well as I had hoped. I used the prescribed weight for the Thrusters (65 pounds), but I seriously struggled with the pull-ups. I just can't do kipping pull-ups, so I wasted a lot of time doing strict pull-ups (with a #2 band) and resting every few reps. By the end, my arms were totally spent, so I was doing one pull-up at a time. They just wouldn't do what I wanted them to do. It was so frustrating!
I was actually the very last person in the class to finish this WOD, which was cool because everyone was cheering me on, but sort of embarrassing too because I was struggling so much and being a big wuss with the pull-ups. I also may have used a few 4-letter words that weren't "Fran."
I finished in 12:25, which was 7 minutes slower than my previous Fran time, but I used 20 more pounds for the Thrusters and used a smaller band for the pull-ups. I also beat my 1RM for Thrusters by 5 pounds during our warm-up (95 pounds), so the workout wasn't all bad. Until next time, Fran!
Snack
After CrossFit, I quickly changed and then headed to NuVal for a few hours. While there, I drank a protein shake and ate a Uber Larabar.
Lunch
When I got home, I made a salad with leftover arugula, beets, and sausage. I also drizzled a little balsamic vinegar on top. It was sort of random, but delicious and satisfying.
Snack
After lunch, I ate an Adora disk with almond butter, a couple of dried peaches, and then a handful of almonds, which I didn't snap photos of because I'm a bum.
Feel Great Weight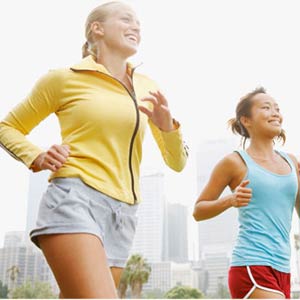 I used to run track in high school, so I'm really looking forward to watching the track and field events during the Summer Olympics. Watching those super-fit athletes inspires me to get moving too. I recently visited my local track and did a great workout that left me exhausted, sweaty, and with a big smile on my face. I had a great time and got great exercise! Hit-the-Track Outdoor Workouts
Stonyfield Giveaway Winner
Thanks to everyone who entered the Stonyfield giveaway! Here's your winner:
Kristy

My favorite summer activity is watching fireworks on the 4th of July.
Congrats, Kristy! Please email me at tina@carrotsncake.com with your full name and mailing address to claim your prize.
Question of the Day
What's your favorite 4-letter word?
Mine is PUGS.
P.S. Dog lovers: Bridget sent me a link to a hilarious site called Text from Dog. Check it out for a good laugh!