I opened up my Instagram account for some questions yesterday and got some great ones about collagen, so I waned to share them with you. One of the big ones was… should you take collagen?
Should you take collagen?
Collagen is an awesome way to increase your protein intake (it's so convenient), but there also seems to be a lot of confusion about it. It is definitely one of those wellness buzzwords that's making the rounds!
But, contrary to the many "magical" supplements on the market that claim to change your life, collagen is one of my tried-and-true staples that I've used for years as a way to increase my protein intake and help support healthy skin, hair, nails, and other tissues in my body.
What exactly is collagen?
Collagen is basically the "glue" that holds our body together. It's a key protein (30% of the proteins in our body are collagen-based) that ensures the flexibility and elasticity of our connective tissue, including skin, bones, and ligaments.
As we age, we naturally begin to produce less collagen, making supplementation important. Some of the side effects of lower collagen production include thinner skin (aka wrinkles), fragile bones, and a general loss of muscle mass.
Why I love collagen
I started taking collagen many years ago, and I am happy to report that I have seen an improvement in the overall appearance of my skin. I look back at photos of myself in my mid-30s and think my skin looks so much better now at 42!
My hair and nails also feel stronger, much healthier, and less prone to breakage. Plus, the extra protein source in my diet doesn't hurt, especially as someone who lives an active lifestyle and wants to build and maintain muscle!
If you're like me, you've spent a lot of time (and money) searching for the best collagen with clean ingredients that won't destroy your digestion. Sure, I've found some that l liked, but didn't love…
I searched and searched for years before discovering Paleovalley's Grass Fed Bone Broth Protein Powder and now I'm in love! It's such an easy way to hit my daily goal of 120g of protein per day!
My favorite collagen powder
​
​
I love its simple ingredients (no funny stuff), extra boost of protein, and its healthy dose of supportive collagen for skin, hair, and nails that you can mix into baked goods, your morning (iced) coffee, smoothies, and so much more!
Guys, I literally put it in everything from my morning iced coffee to soups and smoothies to sauces and so much more. It dissolves instantly and does not change the taste or texture of the food.
Grass Fed Bone Broth Protein Powder FAQs
What does it taste like?
If you've ever had bone broth before you know it can have a mild beef flavor. The Grass Fed Bone Broth Protein has a mild flavor that is virtually imperceptible when added to coffee, a smoothie, or any recipe. It has a slightly nutty flavor that we find quite enjoyable! ​
What is the best way to use it?
I use this product in a number of ways. Add it to hot water and blend, add it to your smoothies for a collagen boost, add it to any recipe that you could add protein to… the possibilities are endless!! ​
Does it mix well in water?
The answer is "yes" but with a little explanation. If you're familiar with collagen you know those products mix completely in water and are completely unflavored. While that may seem like a good thing the problem is that extreme processing is required. Paleovalley doesn't use any chemicals or harsh processing. Their bone broth protein will not mix as easy and completely in water as a commercial collagen product. However, in a shaker or blender it mixes wonderfully in both cold or hot water. ​
What makes 100% Grass Fed Bone Broth Protein better than other similar products?
While there are a lot of collagen products on the market there are only a few that are derived from bone broth but Paleovalley's is different for three main reasons:
It is derived from 100% grass fed and finished bones while others are sourced from grain finished cows.

It is derived from bones NOT hides. Other collagen products (unless specified otherwise) are derived from the hides of the animal which requires extreme processing. When collagen is sourced from the animal's skin, we miss out on all of the extra nutrients and restorative benefits of the bones.

It is minimally processed. While other collagen products use extreme processing using harsh solvents, acids and other chemicals, we use water, bones and nothing else.
Paleovalley is my favorite company when it comes to natural, whole food sourced supplements, and clean, nutrient dense snack foods. (I also love their Essential C Complex as a wholefood form of vitamin C!)
​
If you need help getting quality sources *actually* into your kitchen, you definitely need to check out the product offerings at Paleovalley.
Right now, you can get 20% OFF and FREE SHIPPING on orders over $75 !!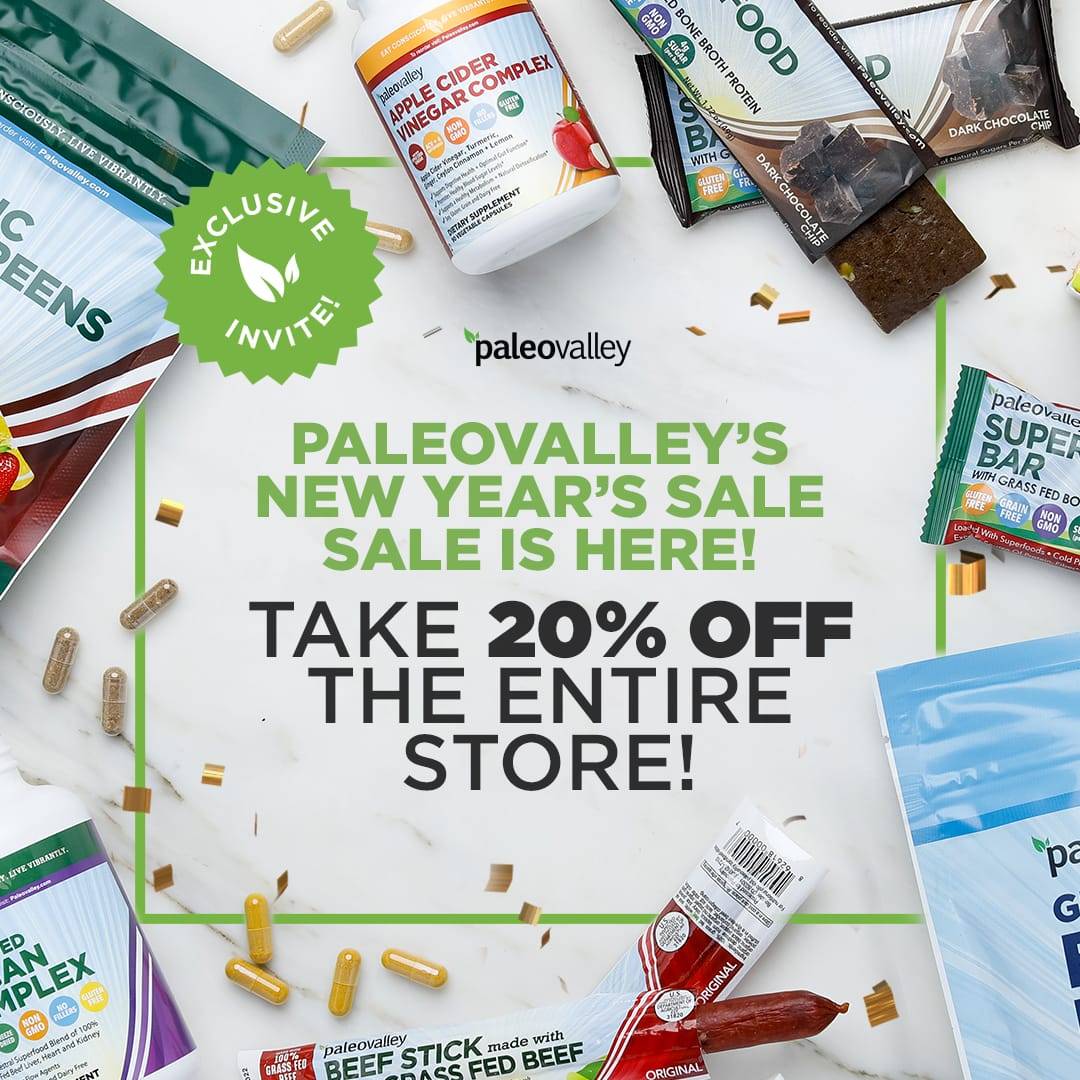 Trust me, you don't want to miss this deal, especially if you've been thinking about trying the protein powder from PaleoValley for awhile now.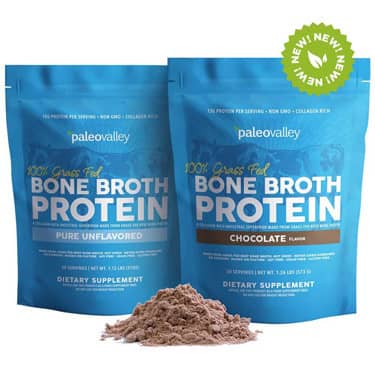 I love their grass-fed whey protein powder (vanilla), bone broth protein powder (unflavored), organ complex, and so much more!
Just a heads up… this deal is only available for another 48 hours, so don't wait to place your order!