I am so excited to be guest posting today on Carrots "˜N' Cake for Tina. My name is Tamara and I am a wife to a firefighter, mommy to an almost two year old with another on the way in few weeks, and a personal trainer/yoga instructor. I started my blog The Workout Mama last year and was looking for a way to record family memories and to share fitness and health tips with other women.
I think most women wonder when they get pregnant what is going to happen to their body after they have a baby. What will it feel like and most importantly what will it look like. I can only speak from my own experience and every women and each pregnancy is so different. With both of my pregnancies I exercised consistently, took my prenatal vitamins, and ate nutrient rich foods. I can only show you my results from my first pregnancy because baby #2 has not been born yet but I will be posting before and after pics on my blog when she arrives. You can follow me on bloglovin, Facebook, Instagram, or Twitter. Having a healthy and active lifestyle will help you not only with labor but also with your recovery.
Here are just a few things that a new mom can expect after delivery. This is just a tiny bit of the information you can find on my Losing The Baby Weight Series on The Workout Mama (just click the link and scroll down to find all the posts). Because I had an unmedicated vaginal delivery I had my friend Jess Temple, another fit mama, share her C-Section tips.
VAGINAL DELIVERY
1) You will still look pregnant. My stomach did not magically deflate. After pushing out my 6 pound baby and delivering the placenta I imagined that there would be nothing left to make me look pregnant. I laugh at myself now. My uterus had been growing a person for the last 9 months, so naturally it was going to remain swollen even after delivery. I am sharing this next picture so other first time mama's can know what to expect.
2) Take the laxatives when they are offered and order prunes with every meal while you are still in hospital. It will make going to the bathroom slightly easier. Do not wipe yourself with toilet paper. There will be a wash bottle in the bathroom that you can fill with warm water to rinse yourself. The wash bottle is amazing!
3) Take a Sitz Bath multiple times during the day. A sitz bath may be created simply by filling a bathtub with some water and sitting in it for a few minutes. There are also special devices that fit into toilet bowls. It is used to relieve discomfort and pain in the lower part of the body.
4) If you have tearing, hemorrhoids or stitches resist the urge to look at them and instead see #3. Also stock up on the gauze panties for when you leave the hospital. Ask for extra's so you can take them home with you. Along with the granny panties provided by the hospital I used several witch hazel pads topped with medicated foam and ointment to soothe my stitched skin and hemorrhoids. All of this and more will be provided to you by the hospital.
5) Ice packs, chilled witch hazel pads, sitz baths, and wash bottles are all wonderful ways to ease the discomfort after a vaginal delivery. I used all of these natural remedies and highly recommend them.
C-SECTION
1) You may experience cramping throughout your shoulders and chest.
2) Shivering is a common reaction to the epidurals and medication.
3) Be prepared to stay in bed for a few hours up to a day after your c-section. You will need lots of rest.
4) Stay on top of your pain medications. That being said getting out of bed for the first time will feel like a major workout.
5) Because of your incision you won't be able to wear anything low rise for a few weeks. Stock up on granny panties.
HELPFUL ADVICE FOR NEW MOMS
Regardless of if you had a vaginal delivery or a c-section here are a few tips that will help you in your recovery…
1) Get up and start walking ASAP. It will hurt and it will not be comfortable at first but each day you will be able to go a little further. Walking is great because it is a low impact exercise and helps the body flush out toxins and hormones that your body no longer needs now that you are not pregnant.
2) Go easy on yourself. You just had a baby. No need to do all the cleaning, cooking, and diaper changes so be sure to ask for help from friends and family.
3) Listen to your body and your doctor. Experts at the American College of Obstetricians and Gynecologist say it is ok to gradually resume exercise if you were physically active until giving birth as long as you did not have any complications or conditions that make exercise dangerous. Any new mom will tell that the first six weeks are an adventure. You are learning your new normal. As soon as you feel ready to get back to exercise and have been cleared by your doctor the faster you will recovery.
4) Many women still look 6 months pregnant after delivery, myself included. The uterus is still swollen and it takes about 6 weeks after delivery for it to return to its normal position. It is totally normal to not feel like yourself after you have had a baby. I promise with time and effort you can and will regain control over your midsection. As hard as it is, try to only weigh yourself no more than once a week or even once a month.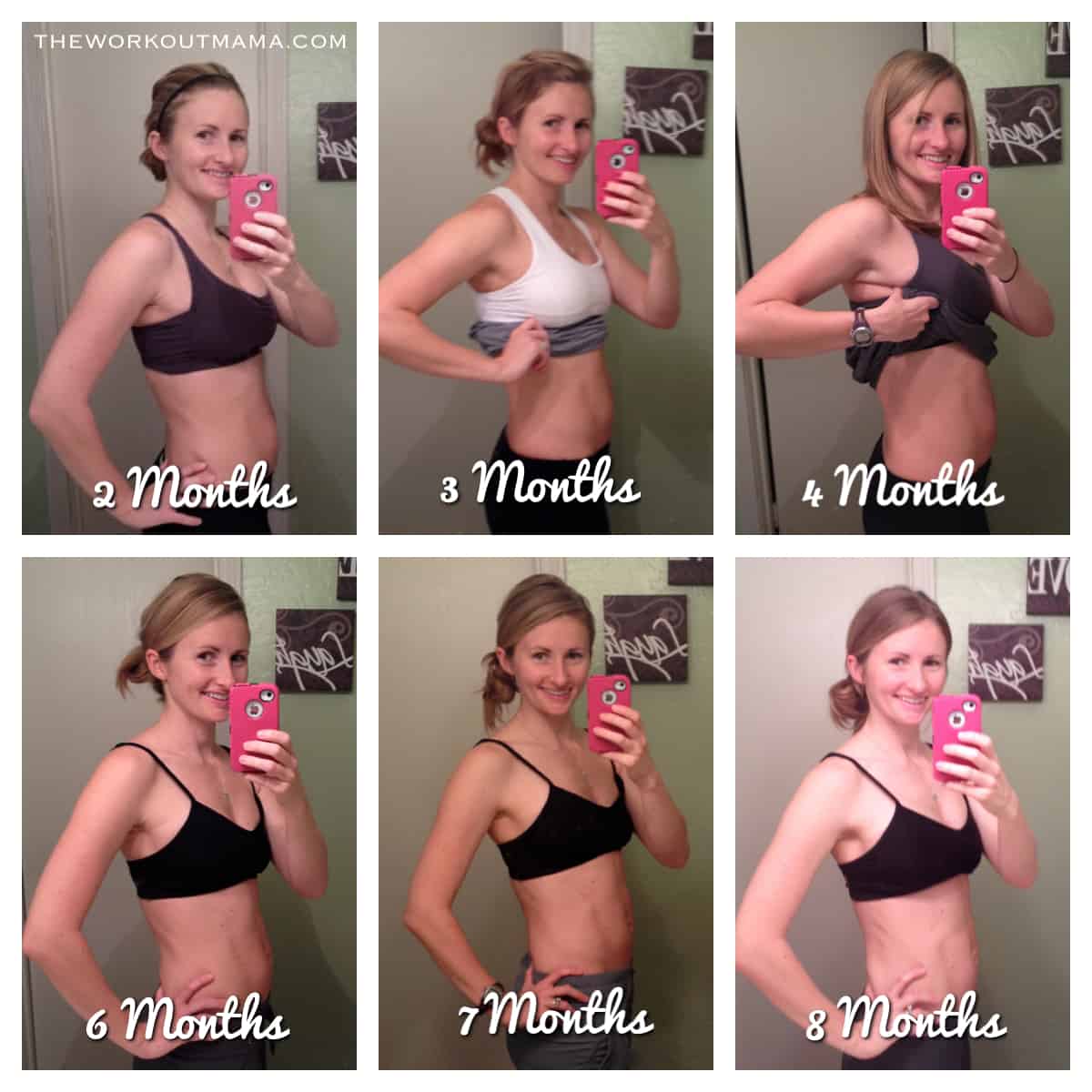 5) Postpartum night sweating is no joke. I had crazy night sweats which left me waking up drenched and having to change my pi's. I heard this is super common and the way the body regulates all the hormone changes and rids itself of excess fluid. Keep extra pajamas nearby so you can make it easy to get changed during the night if needed.
6) If there was one product that I would recommend for new moms it would be the Belly Bandit Original post-pregnancy tummy wrap
. After I delivered my son I wore the Original Belly Bandit and it was worth every penny. The Belly Bandit offers support for your low back, reduces swelling, and boosts a new moms confidence in her post baby body. I wore it all the time except for showering until I was 4 weeks postpartum and for the next 2 weeks only wore it at night. I only recommend wearing this for the first 6-8 weeks after delivery because you don't want your abdominal muscles to become dependent on the additional support.
Want to see what other products I have in my hospital bag for when the baby is born? Check out My Hospital Bag Must Haves.
I hope I was able to make you feel a little more prepared about what you can expect after you deliver your baby. Our bodies are truly amazing! To all you new moms out there or soon to be moms enjoy every minute! I know everyone says it but it really does go by fast.
Thanks again Tina for letting me share with your readers! It was so much fun!
xoxo, Tamara
Freebies for You
If you're looking for FREE macro-friendly recipes (weekly) and meal plans (monthly), be sure to sign up for my email list!
Join my FREE 5-Day Macro Bootcamp to learn all about getting started with tracking macros! 
And be sure to sign up for 3 Weeks Easy Meal Prep Dinners to make the most of your time in the kitchen! 
Want to eat your carrots and cake, too? Check out my macro plan and nutrition coaching options!