"Eva" totally kicked my butt last night. I'm definitely taking a rest day today. Those "New Girls" are no joke!
Many have asked, "Why are the workouts named after Girls?" Coach Glassman, the founder and President of CrossFit explained it best. "I want to explain the workout once and then give it a name. I thought that anything that left you flat on your back, looking up at the sky asking "˜what just happened to me?' deserved a female's name. Workouts are just like storms, they wreak havoc on towns."
The image below has nothing to do with any of the "The Girls." I just thought it was funny! Haha!
Snack
My Banana Bread Smoothie (my first afternoon snack) was delicious, but after I finished drinking it, I wanted something more to eat before my workout, so I snacked on half of a pumpkin ginger NRG Bar before heading out.
Workout
I met my friend Kerrie for a run at Pond Meadow Park, which (I had no idea) isn't far from our CrossFit box.
Pond Meadow Park has a paved running path, which loops around the inside of the park, so Kerrie and I ran it twice for a total of 3.2 miles. The path was sort of hilly and Kerrie is an animal (she's fast), so I really pushed myself to keep up. I want to become a faster runner, so it was exactly the kind of workout I need to get better.
At CrossFit, I got my ass handed to me by "Eva."
"Eva"

5 Rounds for time:

800m Run
30 Kettlebell Swings
30 Pull-ups
I checked the comments on the 781 site before class and a bunch of people didn't finish "Eva" in the 40-minute time cap, so I knew it was going to be tough. My goal was to simply finish in less than 40 minutes, and I tried my hardest, but it just didn't happen. The frickin' pull-ups (even with a band) slowed me down, and I finished in 43:45. (The coaches left the clock going for those of us who were almost done and wanted to finish.) (I used a 35-pound Kettlebell for the swings.) Until next time, Eva"¦
Dinner
At home, Mal and I divided and conquered dinner. He cooked a piece of steak on the grill while I whipped up my own version of a "Sunshine Spinach Salad."
The original version of the recipe is from Sun-Maid, but some of the ingredients and measurements were a little wacky (3 oranges? vegetable oil?), so I did my own thing with regard to the salad and dressing.
Salad
5-6 cups baby spinach or mixed greens
1 orange, peeled and sliced
1 small red onion, thinly sliced
1/2 cup raisins
1/2 cup slivered almonds
1/2 cucumber, chopped
Salt and pepper to taste
Dressing
1/4 cup olive oil
1/4 cup apple cider vinegar
2 tsp honey
1 tsp freshly squeezed orange juice
1/2 tsp tarragon leaves
Dash nutmeg
I topped my salad with grilled steak, and the end result was de-lic-ious!
This recipe is definitely a keeper!
A bite of steak for the pug! (He's so spoiled!)
For dessert, I ate a couple of Peanut Butter Cookies and drank a glass of wine. Cookies + wine = the best.
Feel Great Weight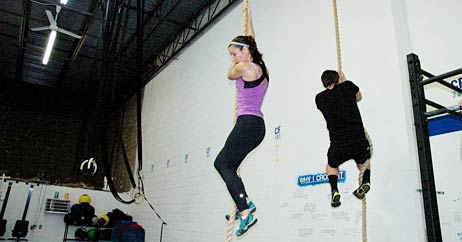 About six months ago, I took my first CrossFit class, and I loved it immediately. And I'm not alone! It's never the same thing twice and many of the exercises (Burpees, Mountain Climbers, and rope climbs) remind me of those I did as a kid, so the workouts are fun and exciting. Plus the "constantly varied, high intensity, functional movements" constantly challenge and push me, so I've seen some serious results, which makes me stick to it. (I typically attend 3-5 CrossFit workouts each week.) Here are just some of the changes I've seen: New Workouts, Big Results!
Question of the Day
If you could have a workout named after you, what type of workout would it be and what type of exercises would you include in it?
Mine would be some sort of endurance workout with running and lots of different exercises. It'd probably be some sort of chipper with all of my favorite exercises (obviously) and running mixed in""sort of like my Marathon Monday WOD with my Hooray for Honduras WOD. And, of course, there would be some Thrusters in it since they're my favorite exercise. (I know, I'm a crazy.)
P.S. Check out my Peanut Butter Chocolate Chip Pretzel Cookies over on the Pretzel Crisps blog. They are ridiculously delicious!