Hey, hey! Happy Friday!
Earlier this week, I read a really great interview with Sophia Bush in Health magazine (September 2015). Her response to one question, in particular, really resonated with me, so I wanted to share it on CNC since I think some of you can probably relate too. Sophia was asked: What is your greatest fear?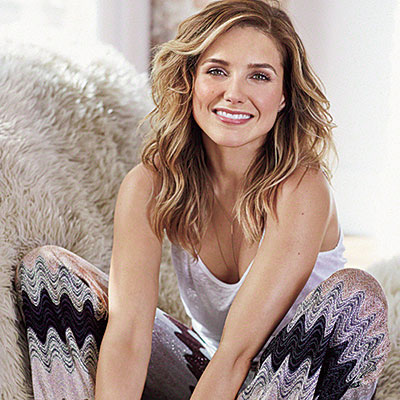 Her response:
The word enough is a monster for me. I don't know how anyone ever feels that they are enough: successful enough, smart enough, pretty enough, healthy enough. I got so scared the first time I decided to say, "I am terrified of not being enough." And what came back tenfold""women who identify, women who sympathize and women who experience all of that""was mind-boggling to me. We are so in this together. And that helps. A friend said to me, "Let it be enough, whatever you did today. You went on a two-mile run and you didn't do a circuit-training workout? Who cares? Let it be enough."
Even though I'm not someone who typically compares myself to other people (unless it's some friendly competition at CrossFit or KFIT), my personal, self-imposed expectations for myself (i.e. work, life, fitness… whatever it might be) are never "enough." Ok, say I have a To Do list with 10 items on it. If I'm only able to do 8 or 9 of them, I'm secretly annoyed that I didn't do them all. My expectations of what is "enough" makes me focus on the negative instead of appreciating the positive, and Sophia's words definitely resonated with me for this reason.
It's such a simple notion: Let it be enough. When I really thought about these words and considered how they could fit into my life, I was much happier with what I was able to accomplish from my To Do list. And, of course, this idea goes well beyond To Do lists. It can apply to so many parts of our lives, and I hope you guys are able to use these words to realize what you did today (or tomorrow or any day) is ENOUGH.
At the end of the interview was a "hit list," which was perfect for a fun Friday post. I thought you guys would be into it too, so here goes. I hope you decide to play along!
Favorite social media account: Anything on Instagram. Some recent favorites: @fuckjerry and @amberfillerup.
Herb I love to cook with: Rosemary. I love how bold a flavor it is. Rosemary-roasted potatoes? HELLO!
Book worth returning to: 10% Happier. I'm definitely going to read it again.
Binge-worthy show: Parenthood. I don't think I've ever been so invested in a show. I literally dreamed about the characters for months!
Podcast: Here are my favorites!
App I'm addicted to: Instagram. I know a lot of people have moved onto Periscope and other apps, but I still love Instagram.
Skincare products: I just wrote about my favorites the other day!
Surprising thing I collect: Hotel key cards. I actually just counted them because I was curious, and I have 73!
Natural beauty trick: Sleep. When I sleep, I am totally different person""both inside and out.
The Vitamin Shoppe Protein Pantry Giveaway
Thanks to everyone who entered my giveaway to win a $100 gift card to The Vitamin Shoppe to check out their new Protein Pantry. Here is your winner:
Brittany
I would love to try the fluff butter! Yumm!
Congrats, Brittany! Please email me at tina@carrotsncake.com with your full name and mailing address to claim your prize!
Question of the Day
Your turn! Pick 3 from above and answer in the comments!