Hey, hey! Happy FRIDAY!
I'm on my way to Mexico later today for a girls' weekend, and I seriously cannot wait. I'm actually coaching a KFIT class this morning (eek!) since Kerrie is already in Mexico (waiting for me to drink tequila with her), so once that's over, I am on vacation! Woohoo! Cancun, baby! Anyway, it's time for another edition of What I'm Loving Lately. Enjoy!
15 Genius Kitchen Hacks to Make Healthy Cooking Easier – I love this round up and two of my own kitchen hacks are included! How cool is that?
45 Life Lessons Written by a "90-Year-Old" Woman – This is adorable and amazing at the same time.
Baked Cinnamon-Raisin French Toast – This recipe looks incredible. It's a mix between a strata and bread pudding, and it looks really easy to make. There's even a short video that goes along with it to show you how!
10 Things You Should Buy at Target – I buy quite a few of these things at Target already, but there were a lot of other great ideas I hadn't considered yet.
Make Your Own Chipotle Guac at Home – I feel like someone let me in on a big secret! Homemade Chipotle guacamole?! YES. I am totally pumped to have this recipe!
10 Reasons Cauliflower Is the Most Versatile Veggie on the Planet – So many awesome recipes!
3D Fiber Lashes Mascara – A friend of a friend sent me this mascara to try out and it's incredible. RapidLash + this stuff = I finally have long, thick eyelashes!
13 Things You Didn't Know About Ben & Jerry's – I have so much love for Ben & Jerry's. This piece rounds up 13 fun, quirky facts about the Vermont-based ice cream company. You'll love it!
A Tiny, Ikea-Inspired Apartment in Paris – You know how I love tiny, organized spaces! Loved this.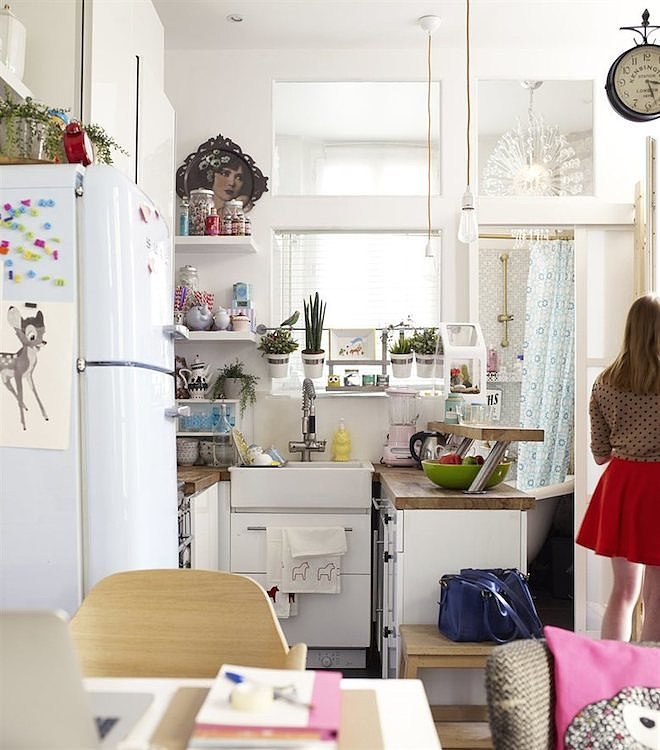 How to Get More Space on Your iPhone "" For Real – This is great.
The "gut-brain axis" – This is my newest obsession. As you know I'm a big fan of podcasts, especially ones related to health and fitness, and I've recently started listening to ones about the gut-brain axis and how much of what happens in your brain is directly related to what happens in your gut, like IBD. I'm a stress-case and my gut is a mess, so I am really into this stuff right now. If you're also interested in this subject, here are some podcasts that I found helpful: The Gut-Brain Axis (Chris Kresser), Overcoming Adrenal Fatigue with Lauren Schoenfeld, RD (Balanced Bites), and Dr. David Perlmutter Shifts The Attention To Gut Health In Brain Maker (The Livin' La Vida Low-Carb Show).
Related: An upcoming webcast from the CCFA: Complementary and Alternative Medicine in IBD. It's next Tuesday, May 12th from 2:00 PM-3:00 PM EST. Tasneem Bhatia, MD (Atlanta Center for Holistic and Integrative Medicine) will review complementary and alternative therapies (CAM) and their relationship to Crohn's disease and ulcerative colitis. Just wanted to pass it along for the IBD peeps.
Questions of the Day
What are you loving lately?
What's your favorite cauliflower recipe?
What do you ALWAYS buy at Target?
Ever heard of the gut-brain axis?