Hello and happy Friday to you!
It's been quite the week… a very busy one, but a GREAT one too. Mal was at an all-day workshop this week, so Quinn and I kept busy during the day and then our evenings were jam-packed too. Let's just say we're all really happy it's Friday… even though the weekend will be busier! Ahhh, I'm going to need wine. Anyway… what a week. Here are some highlights from it!
I PR-ed my "Helen" time by 2 minutes! I hadn't done "Helen" since before Quinn was born, so I was really curious/nervous how I'd do""well, I sure surprised myself (10:31)! And a big THANK YOU to Coach Kerrie who didn't let me wuss out during it. <3
I had the pleasure of attending a lovely (and delicious) blogger dinner hosted by Google Express. Just a reminder: You can get a free $25 on your first order with the promo code from the event!
I went to a special event to learn how the New England Revolution train. The Revs strength and conditioning coach, Nick Downing, gave us an overview of how the team maintains their physical condition and how he uses technology to develop individual plans for each player. It was super interesting. I will give you the details next week!
Quinn loves lamp. Guys, stuff is happening with our little guy this week. We are starting to see him put things together and make connections and, wow, is it cool. He figured out "˜lamp' the other day, and it seriously made me so happy. (I also may have gotten a tad choked up.) Quinn and I were reading a book called "First 100 Words" that had a page of photos of bedtime objects. He pointed to the lamp, so I said "lamp" out loud. After that, he pointed to a lamp in our living room. I said "yes" and got all excited and then he pointed to the other lamp in our living room. Then, I took him into our bedroom to see if he'd recognize the lamps in there and he pointed to all three of them! It was a proud mama moment for sure! And THEN he mimicked both the owl and cow noises on his See n' Say toy. We must have done it a dozen times. It was so cute!
We are making progress with Quinn's "baba." We're down from 5 bottles a day to just 2 (morning and night), so we're pretty pumped about it. We had a tiny bit of success with sippy cups, but Quinn never really loved them. He always wanted his bottle instead. But, recently, we tried a Lollacup with a straw and he's actually digging it. He also really likes his CamelBak water bottle. He liked drinking out of mine, so I bought him a kid-size one. Right now, we are giving him a morning bottle (with milk), Lollacup for lunch and snacks (with milk or water), and a bottle (with milk) just before bed.
Quinn and I went on a stroller adventure. We walked, explored, and visited all sorts of people and places. We ran some errands, played at the park, and made a few purchases. We were out and about for close to two hours. It was a beautiful day, so we both really enjoyed it.
Quinn and I also went on an iced coffee date with a friend and her son. We met at Pond Meadow Park and walked and talked for about an hour. Our boys are the same age and we have a lot in common, so we had plenty of stuff to chat about. Plus, iced coffee and exercise with a friend was a great way to start the day!
I ran the Pond Meadow Twilight Run. It's the first race in the Run Weymouth Race Series. (There are 3 races total.) The course was crazy hilly, so it wasn't my fastest 5K, but it was a beautiful night for running, so I enjoyed myself quite a bit!
And I'm saving the best for last"¦
I was a guest on the Girls Gone WOD Podcast! AHHHHH! You guys know how much I love podcasts, right? Well, GGW is one of my favorites, so it was such a honor and totally surreal to be part of it. I literally laugh out loud when I listen to Joy and Claire (i.e. Joy's DKNY denim trench coat, Mom Sandy, the time Claire's husband built a bench when they were waiting for a pregnancy test), and, in my head, they are my real life friends, so it was frickin' awesome to chat with them. It was like we had known each other for years. Well, I've "known" them for years, right? Anyway, if you'd like to hear our interview, you can access it via iTunes.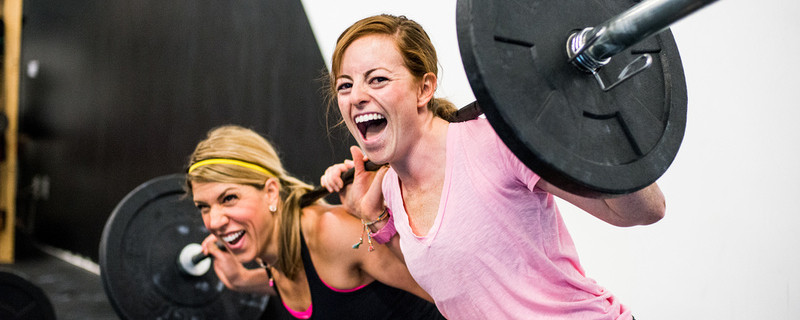 Question of the Day
Your turn! Tell me why your week was GREAT!