If your mornings are hectic, you might think it's practically impossible to make a healthy breakfast. Or maybe you're bored with the same old breakfast morning after morning? Either way, if you do a little prep work the night before or on the weekend, you'll have a nutritious and tasty meal waiting for you first thing in the morning. This, of course, makes for a stress-free and healthy way to start your day.
Most weeks, I pick two recipes to prep ahead for breakfast. That way, I have options in the morning just in case I'm not in the mood for something sweet (or savory) when I wake up. That said, here are four of my favorite make-ahead breakfasts that help me get my morning off on the right foot. (If you prep two different recipes each week, you'll have two full weeks of healthy breakfasts!)
I've partnered with Kohl's on this post, so I highlighted some of my favorite kitchen products that make prepping breakfast a breeze. Kohl's has an amazing selection of items that are perfect for accomplishing all of your 2016 healthy-eating goals, so please read on! There's a great giveaway at the end too!
Ah, yes. My favorite breakfast recipe ever. It's also insanely easy to prepare in my crock-pot. Just set it and forget it! And I love that this breakfast is totally customizable based on what I'm in the mood for. I switch up the ingredients every week, so I never get bored. My current favorites are canned pumpkin, sliced banana, hemp hearts, chopped nuts, and chia seeds.
I make a big batch of crock-pot oatmeal on Sundays and then portion it out into individual containers with lids (this 20-piece set is on sale right now at Kohl's) and then I just nuke them in the microwave in the morning. It doesn't get easier than that!
Another favorite make-ahead recipe is one that I first made for Christmas brunch, but since have made a bit more healthy. My breakfast version nixes the ground sausage and bacon, adds one additional egg, reduces the cheese by half, and I typically use the hashbrown patties from Trader Joe's instead of traditional tater tots. I've made this recipe so many times now, I have it memorized. It's basically: Spread some shredded cheese in the bottom of a baking dish, whisk together, eggs, milk, onion powder, salt, and pepper in a mixing bowl, top with hashbrowns, bake for 35 minutes, top with a little more cheese, and then bake for another 15 minutes. Voila! Then, I cover the baking dish (I use this Pyrex baking dish with cover) and keep it in the fridge until it's time to reheat a piece in the morning for breakfast.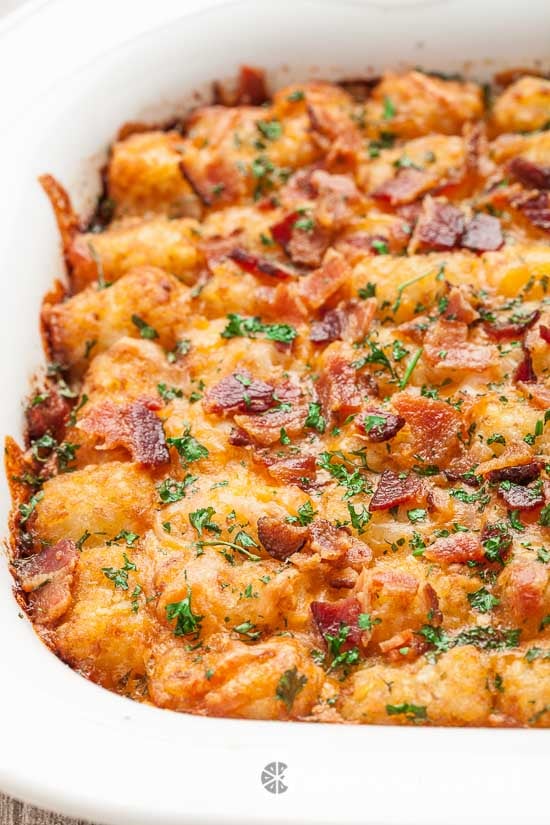 Made with Greek yogurt, eggs, and rolled oats, these pancakes are loaded with protein that keeps me full for hours. And the best part is that you can make these pancakes ahead of time and just reheat them in the microwave in the morning. You can also whip up the batter the night before and make them fresh in the morning. Both ways make breakfast quick and easy!
These Mini Frittatas are so easy and so delicious! I typically make a dozen in my muffin tin at the beginning of the week and then reheat in them in the morning for breakfast. (They make a great snack too!) I like squishing them in between two pieces of toast or an English muffin to make an instant breakfast sandwich. And, of course, I love that they are customizeable. My current favorite combo is broccoli, bacon, and Gruyere cheese. Mmm!
Giveaway time! Here is your chance to win a $100 gift card to Kohl's!!!
To enter: Just leave a comment on this post about your favorite make-ahead breakfast. I will randomly pick a winner next week! Good luck!
Also, check out these sweet deals from Kohl's – these codes can be stacked:
$10 off a $50 home purchase with Promo Code HOME10 (valid from 1/29 – 2/3)
20% off using promo code FORYOU20 (2 days only) (valid 1/29-1/30)
Thank you, Kohls, for sponsoring this post and giveaway!