Hello, friends!
I just got home from a nice, little afternoon, complete with a mani-pedi, some shopping, and a trip to Starbucks. (There was also a bunch of boring stuff mixed in there, but those things don't make for a very exciting blog post.) I'm off to Seattle tomorrow for BlogHer Food, so I needed to run some errands before heading out to the West coast.
Lunch #1
I scheduled a manicure and pedicure at 11:00 AM this morning (I had a gift card from Christmas), so I ate half of my lunch before my appointment and half after my appointment. I knew I'd get hungry during it, so I made sure to eat something.
Lunch #1 was a salad with cottage cheese, fresh blueberries, chopped up Sweet Potato Wedges, sliced almonds, and Annie's balsamic dressing drizzled on top.
My manicure and pedicure were at Allure Spa in Quincy. It was an adorable little place.
Ahhhh"¦ pedicure. I can't even tell you the last time I had one. The foot soak and massage felt a-mazing.
I was so indecisive with the nail polish colors today. My toenail polish took me no time to pick, but I tried a good half dozen on my fingernails before selecting one for my manicure. I also couldn't decided if I wanted to match my fingers to my toes. Ooh, life's tough decisions!
I eventually went with "Charisma" on my toes and "Robyn" on my fingers. I'm loving the fun, bright colors this season!
Both my manicure and pedicure turned out great!
I love the colors!
Snack
After my mani-pedi, I ran a bunch of errands, which included a pit stop at Starbucks for a Mocha Coconut Light Frappuccino. It was delicious, and I highly recommended it.
Lunch #2
When I got home from all of my errands, I was famished, so I whipped up a batch of eggs whites with mozzarella and chopped kale mixed in. I definitely needed something substantial (protein) in my stomach.
Feel Great Weight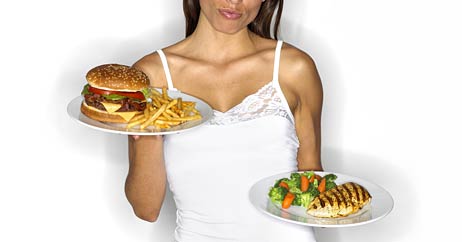 Last week I found myself more motivated to eat well than usual. After spending nearly 32-hours in a van traveling for a 200-mile relay race eating peanut butter-filled pretzels, cranberry white chocolate chip cookies, and gigantic New York bagels, I wanted to get myself back on track. So when I got home, I started balancing out those foods I shouldn't have all the time with the healthier foods I should.
Food Choices: "Should" Vs. "Shouldn't"
Question of the Day
Do you match your fingernail polish to your toenail polish? What do you like more: regular manicures/pedicures or French manicures/pedicures?
P.S. See you in Seattle!