A common saying in the CrossFit world is "stronger than yesterday." I actually own a tank top with these exact words on it because I just love them so much.

[image source: 3, 2 ,1 Go Stuff]
Every time I go to CrossFit, my goal is always to improve (even if it's just a little bit) and be stronger than I was the day before. Of course, during a WOD, I love the competitive energy surrounding me, but, at the end of the day, CrossFit is always me against myself. With that said, check out what I accomplished at CrossFit today!
Did you see it?!? I did FOUR unassisted (kipping) pull-ups in a row! Woohoo! Give me a beer. I need to celebrate!
I remember when I first started CrossFit, I didn't even think a single unassisted pull-up was possible and now I'm busting out four… in a row! My new CrossFit goal is to add (at least) one kipping pull-up each week until I can bang out a whole bunch unbroken. Fran, I'm coming for ya!
Workout
Today's workout was a strength WOD, so after a warm-up and some mobility exercises, we spent 45 minutes working up to our 1RM for Back Squats and Shoulder Press.
Strength WOD:

1.) Find your 1RM for Back Squat
1-1-1-1-1-1-1-1-1-1

2.) Find your 1RM for Shoulder Press
1-1-1-1-1-1-1
Back Squats actually scare the crap out of me. At one of my first ever CrossFit workouts, when we were doing 1RM Back Squats, I bailed forward with the bar, which you're totally not supposed to do""I mean, the weight is on your back, so you're supposed to drop the bar behind you if you can't squat it. I have no idea what I was thinking, but I panicked and dropped it forward. Long story short, ever since then, Back Squats sort of bug me out.
Before class today, I talked to Mal about my fear of Back Squats and what happened when I bailed forward. He suggested keeping my chest up and eyes straight ahead when I squat, so I don't fall forward. To build up my confidence, I practiced some Back Squats with a light-ish weight and then slowly worked my way up to my 1RM. Basically, things went a lot better today. So well, in fact, I beat my previous PR (155 pounds) by 25 pounds (and my March 1RM by 55 pounds). Awesome! I also increased my Press by 10 pounds. Stronger than yesterday indeed!
Snack
After CrossFit, I came home and refueled my muscles with a protein shake made with vanilla egg protein, almond milk, and a splash of iced coffee.
Speaking of egg protein, you can win some tonight at the GNC & CrossFit Twitter Chat. I'll be there along with the other Fitfluential ambassadors, who attended the CrossFit Games. We'll be chatting about CrossFit, the Games, and giving away 10 prizes from GNC (5 100% Egg Protein + 5 AMP Amplified Wheybolic Extreme 60). Feel free to pop in! Details are below. 
GNC & CrossFit Twitter Chat

July 25th, 2012 at 8pm (CST)

Hashtag: #CrossFitGNC
Lunch
A little while later, I cooked lunch, which was scrambled eggs with mashed avocado mixed in and Sweet Potato Wedges cooked in coconut oil on the side. Lunch ruled.
After lunch, I got Murphy ready for a trip to the dog park. On the way out the door, I grabbed a handful of almonds to snack on. I forgot to snap a pic. Sorry!
At the park, Murphy had a blast with his new Puggle friend, Bam. They're almost the same size, so they had so much fun chasing each other around. I saw a lot of elephant butt today!
Snack
I was really hungry when we got home from the park, so I whipped up a peanut butter and banana smoothie. I wish I had measured the ingredients exactly because it turned out so well. Yummmm! Here are the approximately measurements""feel free to tweak if needed!
1 frozen banana
2 (heaping) tbsp peanut butter
1/2 tbsp honey
1/4 tsp vanilla extract
1 scoop vanilla protein powder
1.25 cups almond milk
Shake of cinnamon
News & Views
The Feel Great Weight blog recently joined Health's News & Views blog, so now you can find my weekly posts there!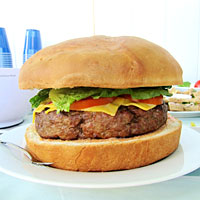 Over the weekend, my husband and I hosted a party where the theme was all things tiny and HUGE, so the menu included food and drinks that were either especially small or large. We served two giant hamburgers (one was a bacon cheeseburger)""each of which served more than a dozen people. We also made a massive Oreo cookie! On the tiny side of things, we served bite-size club sandwiches, sliders, tiny homemade pizzas, and mini chocolate peanut butter cupcakes. It was quite an event! I could have easily overdone it with all of those tiny and HUGE foods, but I made small changes to my eating that added up big time!
Party Food: Make Tiny Changes for Huge Results
Question of the Day
What do you think about t-shirts, jewelry, headbands, etc. with motivational sayings/quotes on them? Do you wear them or do you think they're cheesy?
P.S. A reader sent me this article earlier today: Food Diaries: How CrossFit Coach and Personal Trainer Devin Maier Eats for Two Days. I thought you CrossFitters might enjoy it!