Have you tried Larabar's new Ãœber bar? Holy goodness it's delicious!
A few weeks ago, Larabar sent me their four Ãœber flavors to try, but Mal ate three of the four before I had a chance to try them. The Cherry Cobbler was fair game, so I tried it last night, and it's seriously the best bar I've ever eaten. It was sweet and salty, dessert-like, and really tasted like cherry cobbler. It was basically a mix between a Larabar bar and a KIND bar""chewy and fruity, but with tons of nuts. I'm a huge fan of these babies. You gotta try them!
Dinner
Last night's dinner was chicken with a peanut dipping sauce, roasted red and green bell peppers, and roasted Brussels sprouts. The peanut sauce was really good, so I ended up dipping all of my veggies into it.
After dinner, I enjoyed a couple of glasses of wine on the couch while I watched TV with Mal and Murphy. (My wine glass is from my bridal shower!)
Feel Great Weight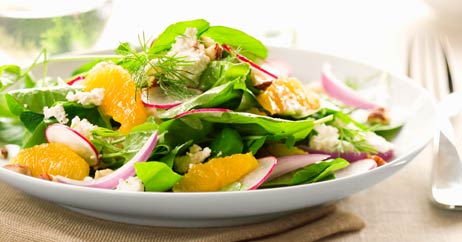 When I first started losing weight, I thought salads were a "safe" choice since they were made with lots of low-calorie and nutritious veggies. That's partly true""salads are a great way to pack more veggies into your diet, but they can also wreck your weight loss efforts if you aren't careful. Here are some do's and don't to keep your salads figure friendly: Surprising Do's and Don'ts of Salads.
Question of the Day
What's your favorite kind of bar?
P.S. I read an interesting article in Woman's Health the other day about meat and labeling. I knew "natural" was a unless label, but I didn't realize that "grass-fed" was also meaningless. I thought you guys might find it helpful too.