Good morning, friends! Happy Tuesday!
Here's the next edition of Monday In Meals where I recap what I ate throughout the day on Monday. I also share some of the things I'm doing to get ready for the new year with regard to healthy eating. Ok, here we go!
Breakfast: Egg sandwich + iced coffee with coconut cream and collagen
Pre-workout snack: Half of a banana with peanut butter
Post-workout: SFH Churro protein shake + Pecan Sticky Bun iced coffee
Lunch: Baked ham with green beans and grainy mustard
Snack: Forager cashew yogurt (watery, but tasty!) with banana slices, Blissful Eats granola, maple extract, and collagen + a mug of eggnog tea
Dinner: Baked chicken breast with Trader Joe's Masala Simmer Sauce, fire-roasted peppers and onions over brown rice with a glass of "sheep wine" <— one of my favs!
Dessert: A couple of Ferrero Rocher chocolates
My Healthy Eating Preparations for the New Year
I don't know about you, but December was a FUN month for me, food- and drink-wise. So much, in fact, I woke up on December 26th craving nutritious food. The thought of eating junk actually kind of grossed me out. It also motivated me to get prepared for the New Year, and I found myself organizing our Tupperware cabinet at 9:15 PM at night. I even thought about cleaning our fridge at that hour, but ultimately decided it could wait until morning. Anyway, since I'm in "healthy eating mode," I thought I'd share some of the things I'm doing to get myself ready for 2017. I organized them into three main categories, and, hopefully, you'll get lots of great ideas to try at home!
GET ORGANIZED
I already mentioned this above, but I organized my Tupperware cabinet, which included getting rid of scuzzy/broken pieces and replacing them with new glass containers. FYI: I bought a magazine organizer from the Dollar Spot at Target for $1 to keep the lids organized. I also cleaned the fridge and gave our cabinets/pantry a once-over. (I don't typically buy more than we need, but there were a few items that we're expired/needed to go.) And, of course, a Designed to Fit Nutrition meal plan goes hand-in-hand with getting organized, but I'll explain more below! 🙂
ASSESS YOUR KITCHEN
Besides the usual knives, mixing bowls, measuring cups, pots, and pans, I took a few minutes to assess my kitchen and figure out what tools might help me eat healthier, especially those that would help me prep and cook food more quickly and easily. I ended up buying a "snack slicer" at Target, which is awesome for making veggie sticks for dipping, which has become one of my favorite new snacks, especially before dinner when I'm cooking dinner. Otherwise, I eat like 8,000 chips, nuts, or chocolate chips.
Other favorite healthy eating kitchen tools:
Chef'n Twist Handheld Spiralizer: This thing is awesome for making zoodles and other veggie pastas. I love its size (it doesn't take up half your kitchen counter like some of those other spiralizers), and it comes with three different blades (thick ribbon, small julienne, large julienne) to give you some different noodle options. Plus, look how fun it is to use! Haha!
Food scale: The first time I used a food scale was this summer when I bought it for DTFN recipes. Well, it turns out they're pretty cool, and I actually like using it. And I was surprised to learn that I often underestimate the portion sizes of my proteins, which, of course, has been super helpful with meal planning and my overall satiety after eating. Not surprisingly, my carb and fat portions are typically overestimated, so it's great for keeping me on track. I have this basic food scale, which works fine, but I saw that Target has some really neat ones, like this Bamboo Platform Scale and Stainless Steel Scale.
Conversion Cutting Board: I was shopping on Crate & Barrel the other day for a marble cutting board (for the blog) and stumbled upon this Conversion Cutting Board. It was so adorable and so functional, I immediately needed it in my life. No more mid-cook Googling!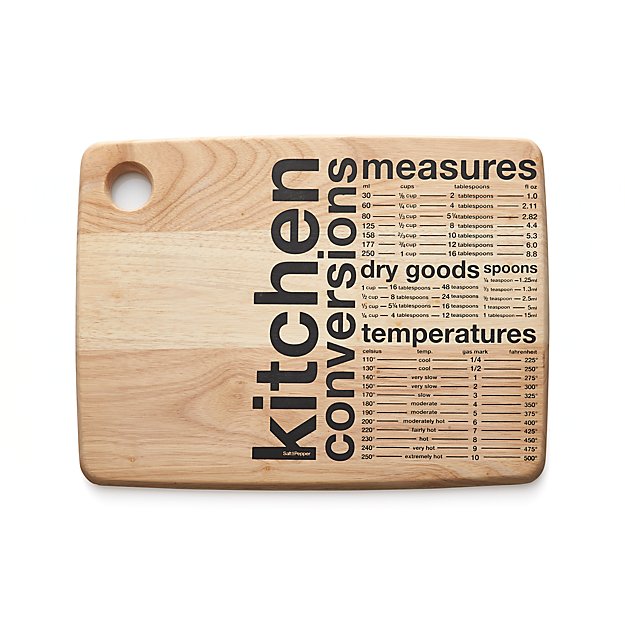 SIMPLIFY
Seriously. I swear, some people make healthy eating so darn complicated, and it really doesn't need to be. And it's even easier with a Designed to Fit Nutrition meal plan. We do everything for you, so your meals/prep/eating basically goes on auto-pilot. We tell you exactly what to eat, specific for your energy needs (i.e. lean body mass, body type, exercise routine) and lifestyle (i.e. occupation, schedule, food preferences). We even include corresponding grocery shopping lists to make your life even easier. And with our new software (we get it tomorrow!!), it's going to be even easier for you to plan out your week!
A few of our favorite ways to simplify meal planning:
Pick two breakfasts and alternate them throughout the week: This makes the morning rush so much easier for our clients. We usually give them one sweet and one savory option and, often times, the recipes are make-ahead breakfasts, so all they need to do is reheat them in the morning (i.e. egg bakes, overnight oats). Our clients don't get bored with their breakfasts because the next week includes two totally different ones!
Prepare multipurpose meals: We typically give our clients a couple of recipes that they'll use in multiple meals throughout the week, so they're not spending hours and hours in the kitchen. For example, we'll plan a Crock-Pot Buffalo Chicken recipe, which they'll have on a salad with blue cheese crumbles and then, later in the week, roll it into a wrap with a bunch of veggies for lunch. Same goes for something like Roasted Sweet Potatoes. One day, they'll have them with scrambled eggs in the morning and then, the next day, they'll eat them as a side with dinner. Planning meals this way makes healthy eating so much easier because you always have something prepped and ready to go.
Find meal short cuts: We love using ingredient "short cuts" in our meal plans. Anything to make prep easier and faster! For instance, we love the frozen Fire-Roasted Peppers and Onions from Trader Joe's. We use them in omelettes and egg bakes, crock-pot recipes, fajitas, taco salads, and so much more. We're constantly trying to brainstorm ideas for making prepping and cooking easier for our clients so that their meals come together quickly and easily, which means they're more likely to stick to their plan and see results!
Question of the Day
What are your healthy eating goals for the new year? How are you getting ready?