Good morning! Happy Tuesday to you!
So, I love reading surveys and learning new things about my favorite bloggers, so when I saw this one on Julie's blog last month, I was all about it. I also wasn't sure what to blog about today, so here are some random ramblings from my life lately. Enjoy!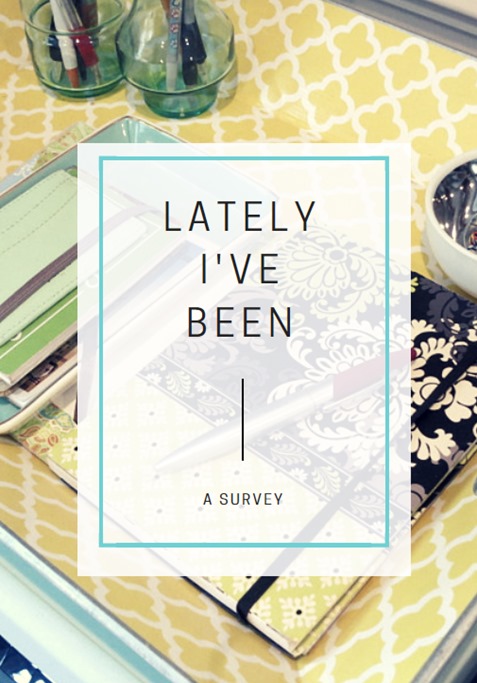 Lately I've Been"¦
Making: No-Bake Mini Vanilla Almond Coconut Bars. I make a batch pretty much every week, so I have a little something sweet to snack on whenever the craving strikes. Mmm! And they take like 5 minutes to make. Love that.
Cooking: Garlic Mustard Drumsticks. We've eaten this recipe quite a lot in our house lately. Organic drumsticks are just $1.99/pound at Trader Joe's, so I've made a big batch for the past three weeks now. It's such an easy recipe and always turns out well.
Drinking: Marylou's iced coffee. Surprised? I didn't think so. Haha! My father-in-law bought me 4 pounds of Marylou's ground coffee, so I'm drinking even more of it lately!
Reading: I'm still reading 10% Happier, but it's my goal to finish it this week. Plus, I've raved about it so much, Mal wants to read it now. He keeps bugging me to hurry up with it!
Wanting: A weekend with no plans. Well, yes and no. I love that we have so many fun things to look forward to this summer, but I'd love a lazy, low-key weekend too.
Looking: Forward to spending a week on vacation in Oregon with Mal's family. They've never met Quinn, and we're staying at a really cool place with all sorts of outdoorsy stuff, so it's going to be fun!
Playing: Silly games with Mal. Always. We've moved on from hiding the skull to tiny photos of Murphy. I had a few leftover after I printed some photos for Quinn's birthday party, so I cut them up and started putting them in Mal's stuff.
Wasting: Time trying to find the best online deals for summer clothes for Quinn. He now has a whole new wardrobe! Here's how I saved some serious cash: Used Ebates with TreadUp, Zulily, and Kohls. Signed up for their emails lists and text updates and then just waited for the sales and discount codes to come in. I honestly don't think I spent more than $10-15 per order with all of the deals/coupons I used, but I got a TON of stuff for Quinn. (I'm kind of a psycho about finding deals online, and I'm okay admitting it.)
Wishing: Mal was on summer vacation. Darn snow days. He's not out of school until next Monday.
Enjoying: The daylight. My favorite time of year is right now when the days are really long.
Waiting: For good news tomorrow.
Liking: The exciting news from General Mills. Have you heard? The company is removing all artificial flavors and colors from the entire line of their cereals. They listened to you guys! As they move in this direction with their cereals, their team has used a variety of ingredients like fruit and vegetable juice combinations and spice extracts for colors, so they sent me some of the spices and flavorings they've used to inspire them in this journey. Pretty awesome, right?
Wondering: How we're going to survive a 6-hour flight with a very active one year old. Please pray for us.
Loving: Our friends. Somehow Mal and I got really lucky with such amazing people in our lives.
Hoping: We keep up our Happy Birthday sign tradition next year. Since Mal, Quinn, Murphy, and I all have birthdays right near one another, we put up a "˜happy birthday' sign and then changed the name after it for each of our birthdays. It was fun, so I hope we do it again next year.
Needing: A sugar and wine detox. I definitely lived it up last weekend, but, whoa, I need a detox.
Wearing: KUT from the Kloth. I first got hooked on their appareal, thanks to all of the amazing jeans that my stylist at Stitch Fix sent me, but now I'm obsessed with their shorts, tanks, and dresses too.
Following: @fuckjerry on Instagram. It's so frickin' funny. I laugh out loud almost daily at his posts.
Noticing: That I like telling people I'm 35 years old.
Knowing: I have the most wonderful little boy ever. I fall in love with him (and his crazy hair) more and more everyday.
Thinking: It's totally normal to keep your birthday candles with the potholders in the kitchen. No? Growing up this is where my mom kept them, so that's where I keep them now. Mal had trouble finding them for my birthday donut last week, so, apparently, it's a weird place to keep them.
Feeling: Happy, content, and thankful. Turning a year older definitely makes you look at your life a little more closely and my life is a zillion times better than I ever imagined it to be.
Bookmarking: This recipe for Avocado Cilantro Lime Rice. A reader shared the link with me last week, and I need to make it ASAP. It sounds so good!
Opening: A recent order from Boxed. Have I mentioned how amazing this service is? We use it ALL the time. All the time, people. FYI: You can save $15 on your first order with code B8TGW.
Questions of the Day
Where do you keep your birthday candles?
What is your favorite Instagram account to follow?
What are you needing right now?
Any advice for entertaining a one year old for 6 hours in a confined space?
P.S. Be sure to enter my giveaway to win a $250 gift certificate to Lorna Jane!!