Hi, guys!
I'm back with another edition of What I'm Loving Lately. I've received great feedback on these lately, so look for me to share my favorite finds on the regular. I also love hearing what you are into lately, so please leave a comment and let me know what I should check out next!
I'm actually hitting publish on this blog post early because there is a MASSIVE Beautycounter sale happening right now, and I want you guys to have first access to it – details below!
HUGE BEAUTYCOUNTER SALE – This is seriously the biggest one yet – I've never seen a Beautycounter deal like this before! Get 20% off site wide with promo code LOVE (excludes the Flawless in Five, Get the Look, Peel and Countersun)! The offer goes public tomorrow and is good thru August 13th. It's time to stock up on your favorite products! Quantities are limited, and I assure you things will sellout, so act fast! If you've wanted to try Beautycounter, NOW is the time! ***Just make sure you use the promo code – no discount can be applied after that.
Simple Mills Almond Flour Cracker Snack Packs – I've always been a fan of Simple Mills products because they are made with high-quality, simple ingredients – not to mention they taste amazing! Their crackers are SO good, which means they can be a little addictive. Has anyone else eaten a whole box of Simple Mills crackers in one sitting? I love that they have these pre-portioned snack packs to keep me from eating them all in one sitting. Plus, they're easy to pack up for the beach, school, or travel for adults and little ones.
Primally Pure Ugly Truth Behind Drugstore Deodorant Blog – Over the past year or so, I have worked to be more mindful of what I put on my skin – starting with my beauty products (above) and deodorant. I found this article to be an interesting read for anyone curious about making the switch to a more natural deodorant. I personally love the Primally Pure Charcoal Deodorant because it WORKS and doesn't leave white residue all over my clothing.
Women's Sugar Zeffers – Flip flops from Allbirds!?! I'm in love! I don't own a pair YET, but these look so comfortable and lightweight. And, of course, I love the fun colors as well! My current flip flops had a fun summer, but it's time for a new pair. I can't wait to scoop these up for next year's summer wardrobe!
Brooks Launch 5 ON SALE at Zappos – You guys know I love my Brooks running shoes, and these are definitely a favorite. They are lightweight, but supportive – I love running shorter distances in them (anything less than 7-8 miles). The Launch 5 are on sale right now for just $79.95 – not to mention you get free shipping both ways – in case they don't fit, your return is no problem! FYI: The Launch 5 are also on sale on the Brooks website (same price), so check both places for the best selection!
Kite Hill Chive Cream Cheese Style Spread – Apparently, I'm on an almond kick! Between the Simple Mills Almond Flour Crackers and this delicious cream cheese spread, I'm certainly hitting my nuts quota! This flavor is incredible – just like the real deal – and the perfect pairing for an afternoon snack. It's great with crackers, chopped veggies, or used as a based for a party dip. I also like it spread on toast first thing in the morning. Yum!
"Beach bum" sweatshirt – How adorable is this sweatshirt? I love having a comfy lightweight sweatshirt to toss on over my bathing suit once we have the AC going on the ride home. This cute top is on sale right now and a perfect addition to your late-summer wardrobe!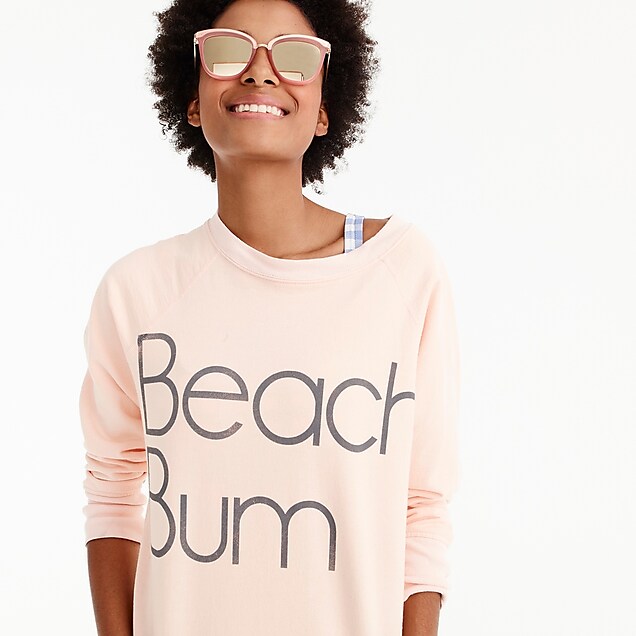 Deland Bakery Millet Zucchini Bread – I stumbled upon this bread at Whole Foods a couple of months ago and thought I'd give it a try. The millet and zucchini combo sounded interesting, and I loved the whole food ingredients. It did not disappoint and since has been part of my regular bread rotation! It's also is super allergen-friendly for those that need to be mindful of certain ingredients.
Striped snap-neck sweatshirt – J. Crew is one of my go-to stores when I want to add a few new pieces to my wardrobe. While I'm still living the summer life, fall is just around the corner. I happened to see this cute striped sweatshirt and thought it would be a classy addition to my closet.
ButcherBox – I've used ButcherBox on and off for years now. Off because I often just forget or our schedule gets busy so I put deliveries on pause. On because I think it's so convenient to have the best quality meat delivered straight to our doorstep. I really feel good about serving my family protein from healthy, happy animals, and ButcherBox makes it so easy. Plus, I just like having a well-stocked freezer, so I can reach in and grab what I need when meal planning/prepping.
26 Movies to Watch on Netflix – I love enjoying a good movie, but cannot stand searching Netflix for hours. It's the worst, right? Here's a great list of recommendation – vecause we all need a little bit of Netflix and chill time. 😉
Question of the Day
Have you started shopping for fall yet?
What new food product are you loving right now? I'm always taking recommendations! 🙂