Hi, guys! Happy FRIDAY to you!
I can't believe Mal's spring vacation is over just like that. I feel like we were just celebrating the start of it. We really didn't do all that much this week, so HOW does that happened? Oh, well. Summer vacation is coming soon, right? Honestly, I don't know… spring even seems a zillion years away. Is it freezing where you are? As long as there's not snow, I'm happy! 🙂 So, it's Friday and you know what that means: It's time for the next edition of What I'm Loving Lately!
Naked and Afraid – Ok, I'm a little behind on this one, but I caught an episode on the plane ride home from Atlanta, and I'm obsessed. That show is crazy. Mal thinks it's all fake, but I'm so impressed with these people – mostly because I'd never survive naked in the wilderness!
Striped button-shoulder turtleneck – I'm loving the stripes lately! 🙂 I love this cozy top, which comes in other colors and is on sale right now – perfect for cool summer nights!
Three-time cancer survivor finishes Boston Marathon 13 hours after start – This is SUCH an amazing story!
Eyelet-back sweatshirt – Another J.Crew favorite! How amazing is that back of this sweatshirt? I'm obsessed. It also comes in white and navy.
Can you still eat intuitively while meal planning? – This is such a great blog post from one of our RDs at DTFN! "Meal planning with some weekly prep is the only way to consistently have a positive outlook on your diet. That might sound extreme, but let me explain! Whether you are trying to eat more and recover from a restrictive mindset, reign in your portion sizes and make healthier choices, or just save time, having good options available when you are hungry is key." Ashley makes so many great points about combining the best of both worlds with meal planning and intuitive eating – be check out her full blog post!
Fran, Karen, Annie, Diane, Joy & Claire Tank – GGW fans! Check out their new tank tops! LOVVVE! I already own one, but if you love the podcast, I highly recommend having one in your wardrobe, too. It makes me happy every time I wear it! 🙂
Athleta Stripe Modern Metro Shortie – I'm working on a blog post called "Shorts that Don't Suck," and I just purchased these to add to the round-up. Super cute, right? And they look so comfortable. Athleta FTW!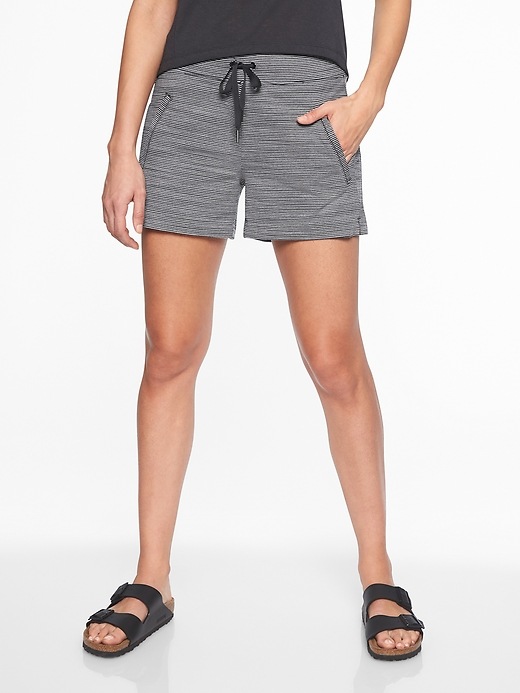 Question of the Day
Stripes on clothes: Love 'em or hate 'em? 
P.S. If you haven't yet, be sure to enter my giveaway to win a 6-month supply of Deep River Chips! You definitely want these chips in your life – they have so many amazing flavors!!