Last night, I stumbled upon a piece on Shape.com called 10 Seriously Fit Chicks of CrossFit, which highlighted strong and inspiring women to watch at the 2012 CrossFit Games. It was right up my alley! I loved reading about these ladies, and I am especially excited to see them compete at the Games in a few weeks. I know we all have fit chicks that motivate us, so here are three that really inspire me:
Annie is the Fittest Woman in the World, so, obviously, I'm a fan and totally in awe of her. I plan to geek-out when I see her at the CrossFit Games.
Talayna can do "Fran" in 2:26 and deadlift 350 pounds. She's an animal. She's also sponsored by GNC, so, hopefully, I'll have a chance to meet her at the Games!
There was a great interview with Dara in the July/August issue of Health, so I'm a new fan of hers. She's trying for her sixth Olympics. She's truly a fitness inspiration. Plus, I hope I'm still rocking the workouts when I'm 45 years old.
Snack
Last night, dinner took longer than expected to cook, so I snacked on some almonds, red bell peppers with hummus, and then some carrots to hold me over.
Dinner
Dinner was Spicy Yogurt Chicken with Sweet Potato Wedges and white wine. Delicious!
Feel Great Weight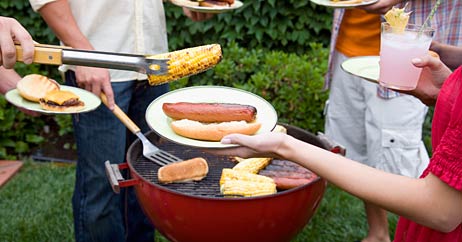 Summer is my favorite season, especially when it comes to foods like ice cream and burgers on the grill. I love to indulge, and I know one or two days of splurging isn't a big deal, but if I enjoy my favorite treats all summer long, I definitely won't maintain my weight. To make sure I don't overdo it and stay body beach-body ready I make these healthy swaps. Click the link for all the simple, but delicious changes that work for me.
Question of the Day
What fit chicks inspire you?