Let the travel adventures continue!
Ok, so on Tuesday morning, I left Seattle to fly to Minneapolis for a blogger trip, which was hosted by General Mills. (Mal flew home solo with Quinn because, well, he is Super Dad. Somehow they scored an extra seat on the airplane, so Quinn snoozed the entire flight and everything went perfectly… minus poor Mal arriving home to an extra foot of snow that he had to shovel at 10:00 PM.)
During my travels, I contracted some sort of stomach bug, so I ended up leaving Minneapolis a little earlier than expected. I missed half of the second day at General Mills, which, of course, I am super bummed about, but I still learned all sorts of interesting things during my time there. That said, here are some fun facts from my trip to Minneapolis!
I love Chex mix so much, and I can eat a hell of a lot of it, especially if it's a sweet recipe.
I must have helped myself to 5 or 6 servings of the caramel chocolate Chex mix that was served to us when we arrived. OMG, it was so frickin' good.
In 1975, Lucky almost lost his job as cereal mascot and was briefly replaced by Waldo the wizard. Whoa. I can't even imagine Lucky Charms with a wizard as its mascot. I'm so glad Lucky kept his position!
Betty Crocker is a fake woman. I know! I was surprised by this one too. Here's the whole story. It's really interesting, especially how her image has changed over time.
Cinnamon Toast Crunch Cold Brew Coffee is a thing! What, what?! Yes, you heard right. Cinnamon Toast Crunch Cold Brew exists, and I want it.
General Mills served Cinnamon Toast Crunch (Hot) Coffee at their breakfast on Day 2, but, unfortunately, I didn't have an appetite for it. Whomp whomp. Now, I must make the CTC cold brew at home!
Aveda originated in Minneapolis. I get my hair cut at an Aveda salon and love their hair products (and tea!), so I was pretty excited to hear this. The nice General Mills folks included some travel-size products in our welcome bags!
Bruce Jenner was the first official spokesperson for Wheaties. Did you know he was an Olympic athlete?! Kidding!
Dinner at Travail was a dining experience. Holy cow. I don't think I've ever had so much fun at a restaurant in my entire life. Each course was so incredibly interesting and incorporated cereal from General Mills in some capacity. We even had the chance to make Dipping Dots in cereal flavors! It was so cool!
General Mills HQ is one cool place to work. The company offers their employees so many on-site services and perks, including a fitness center, daycare, cafe, Aveda salon, health clinic, credit union, stand-up treadmill desks, and so much more. It's pretty incredible. I want to work there!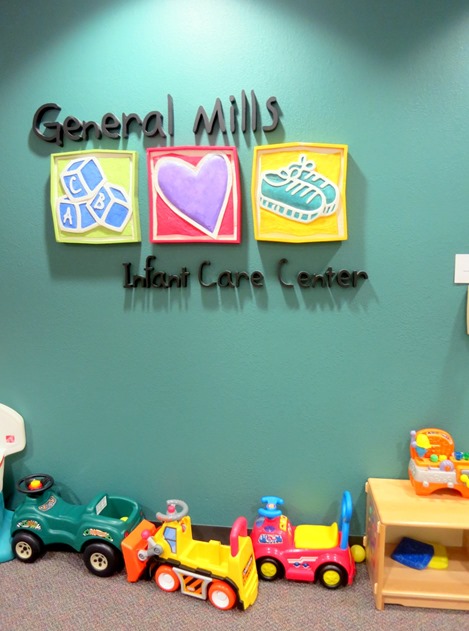 General Mills has reduced the sugar in their cereal by 17% since 2007, and they continue to strive to make healthier products.
 I take recipe development very seriously. Look at the photo of me on the left. What is that face!? Haha!
During our time at General Mills, we each had the opportunity to create a breakfast recipe in the Betty Crocker Kitchen.
It was a lot of fun, and I came up with a French toast pancake using French Toast Crunch, rolled oats, and shredded coconut in the batter. It was delicious!
Spending time with blog buddies is simply the best, and I don't know where I'd be without this wonderful group of women. 
I truly don't know what I would do without these ladies in my life (plus some others not on this trip). Even though we blog about similar things, none of us are ever competitive and we provide so much support for one another. I love them all.
And, finally, not necessarily a "fun fact," but just a little something I wanted to say about General Mills. They invited us to Minneapolis simply to learn more about their company and pick our brains about their products and how they can better improve them. They didn't ask us to blog about our experience, and they straight-up told us this. It was totally optional if we wanted to share via social media. At the end of the day, General Mills just wanted to create a better relationship with each of us.
A common theme of many of my conversations at General Mills centered around bettering their products, specifically their cereals. The company wants to have a positive impact on what their customers eat, so they were really open to our feedback and, on multiple occasions, we were encouraged to "not hold back" with our comments, questions, and concerns. General Mills is a huge company and they know they have the scale to do great things with regard to healthy eating, and I have a feeling they are well on their way.
Questions of the Day
Have you ever visited Minneapolis? If so, what's your favorite thing about the city?
What's your #1 favorite cereal?